Recently

Patty Brard

took part in SBS 6 high-rated show "

Sterren springen op zaterdag

". Currently, Eyeworks, which produces the program, is involved in a format dispute with Banijay International over the celebrity diving competition.
See below a copy of an article posted today on C21media.net:
Dutch formats specialist Eyeworks has hit back at claims by Banijay International that one of its properties copies one of the latter's shows.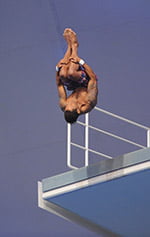 In a statement, Banijay International said that Eyeworks'

Sterren Springen (aka Celebrity Splash)

" may borrow format elements too heavily" from Banijay's primetime game show

TV Total Turmspringen

(aka

High Diving

).
Both formats involve celebrities diving into swimming pools. Banijay has hired copyright infringement experts to assess the legal situation and is considering taking action against Eyeworks.
However,

Sander Emmering

, MD and executive producer at Eyeworks, has defended the format in a statement. "We understand that Banijay is considering legal measures and we are actually quite surprised that they have apparently made this public," he said. "We have developed this new format in-house and it is currently recognised as a ground-breaking show."
Emmering

added that the Banijay show at the centre of the dispute "never attracted any substantial international exposure or interest," and also claimed that Eyeworks' distribution arm has sold the format to its own show into Australia, France and the UK.
In the latter, the as-yet undisclosed buyer is likely to be a multi-channel network, since representatives for the BBC, ITV, Channel 4 and Channel 5 all denied involvement.
Eyeworks'

Celebrity Splash

sees nine celebrities high-diving over a series of elimination rounds, having received training from a professional instructor. It was shown as a four-part event earlier this year on Dutch free-to-air net SBS 6.
SBS 6 was unavailable for comment before press time. However, speaking to C21 earlier this year, SBS Broadcasting's director of channels and programmes,

Remko van Westerloo

, said of the format: "We were looking for something that would break new ground and be new for the viewer."
Meanwhile, in

High Diving

, produced by Banijay-owned prodco Brainpool, celebrities must complete different dives in front of a judging panel having received instruction from the German Swimming Association.
It has aired on German broadcaster ProSieben since 2004 as a yearly event for ProSieben's

Stars in Danger

season. It will air for the eighth year running later this year as part of the strand, in which celebrities compete in a variety of sports.
Source: C21 Media / Shownieuws